Stables
Hand Crafted Quality Mobile / Static Stables
Made using sustainable materials
Deliveries are available to all UK postcodes and Continental Europe. We are open 5 days a week Mon-Fri 9:00am to 4:45pm Sat & Sun - Closed.
Deliveries are available to all UK postcodes and Continental Europe. We are open 5 days a week Mon-Fri 9:00am to 4:45pm Sat & Sun - Closed.
Deliveries are available to all UK postcodes and Continental Europe. We are open 5 days a week Mon-Fri 9:00am to 4:45pm Sat & Sun - Closed.
Email us today for a quotation -
Bespoke Static and Mobile Timber Stables hand crafted to suit your requirements and specifications, incorporating pressure treated materials throughout. Mobile Stables supplied with galvanised steel skids,we only use scandinavian pressure treated redwood shiplap or loglap claddings, which are far better & will last for many years. We now offer decorative roofing felt shingles, either hexagonal or square, in black, green, or a red finish, please ask for details.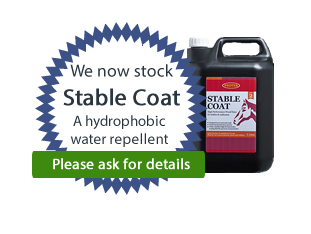 Horse Stables available from 12' x 12' (3.6m x 3.6m) upto 120' x 12' (36.0m x 3.6m) all using pressure treated timbers. Galvanised steel skids are available to turn your Static Stable into a Mobile Stable if required.
3" x 2" (75mm x 50mm) Frame work throughout, roof joists are 5" x 2" (125mm x 50mm). All timbers are pressure treated.
Galvanised steel skids are available if required, to make your Stable mobile, Tack Rooms can be added to Stables.
Our range of buildings are robust and built to last, options available using either:
19mm (3/4") Pressure Treated Loglap Cladding
16mm (5/8") Pressure Treated ShipLap Cladding
Apertures for talk grills , windows and vents can be created at a specific size an no extra cost. Wooden Horse Stables can also be added to one of our combination buildings, we have been timber stable manufacturers since 1983. Heavy Duty Horse Stables for sale, Mobile Stables for sale, all handmade incorporating scandinavian pressure treated redwood claddings.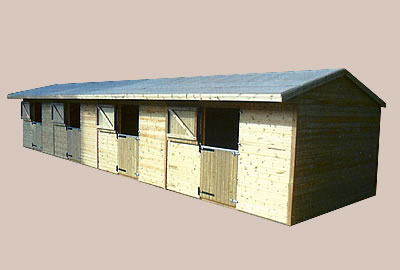 48' X 12' (14.4m x 3.6m) Shiplap
Apex Stable
5/8" (16mm)
Pressure Treated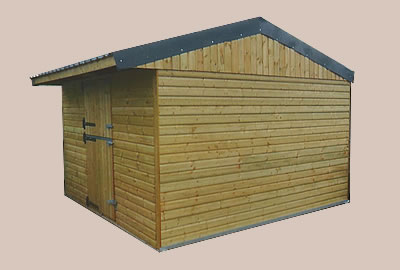 12' X 12' (3.6m x 3.6m) Shiplap
Apex Stable
5/8" (16mm)
Pressure Treated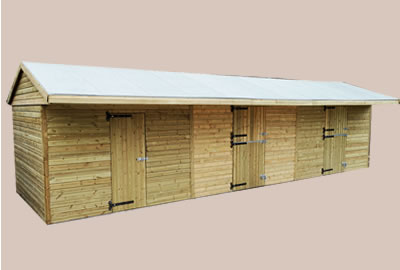 36' X 12' (10.9m x 3.6m) Shiplap
Apex Stable
5/8" (16mm)
Pressure Treated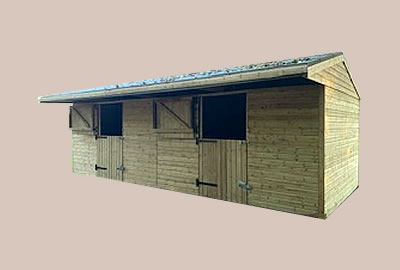 24' X 12' (7.2m x 3.6m) Shiplap
Apex Stable
5/8" (16mm)
Pressure Treated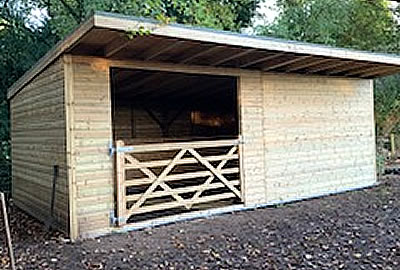 24' X 12' (7.2m x 3.6m) Shiplap
Pent Stable
5/8" (16mm)
Pressure Treated
"We just wanted to let you know how pleased we are with our Post & Rail Fencing and Field Shelter. The Field Shelter is up and looking very good. It was easy to assemble and is of excellent quality. Thank you so much for all your help, advice and for arranging it all to be delivered to the Isle of Wight, Fantastic service. We are happy to recommend you and will of course order again should we need anymore timber products."
M & R Stevens, Isle of Wight
"We are really pleased with the Field Shelter that you supplied to us, my husband has made it into a dog kennel for his working dogs, it's perfect especially with this hot weather it is nice and airy and cool for them. We look forward to receiving the 12 x 12 Stable that I ordered yesterday, the service is brilliant."
J Meyers, Falmouth Cornwall
"This company is highly recommended. Product is first rate and absolutely amazing customer service. Thanks for always going the extra mile Steve, it's very much appreciated."
Mr & Mrs Taylor, Swindon
"I bought a block of 4 stables from Foster Fencing last year and have to say they are just what I asked for. The quality is very good and just as described by them. Considering the awful wet winter we had they have held up remarkably well, no damage whatsoever. I am very pleased with them and would definitely buy from them again and recommend to anyone thinking of buying Stables or Fieldshelters at a remarkable cost effective price."
Cheryl, Winchester
"Four years ago Foster Fencing supplied me with 10 Stables which were of high quality wood and are home to some very large horses. These stables have had a yearly clean and coat of preserve and still look as good as new. Last year we decided to buy a Field Shelter which again was supplied by Foster Fencing, this was delivered and assembled in just one weekend. Foster Fencing always give good service and offer advice when needed, I would highly recommend them."
Mrs.Cox, East End Boldre Nr Lymington
"I have just assembled a 24' x 12' Pressure Treated Mobile Stable that you have delivered ans I'm pleased to say the quality and price was much better than the one it is replacing."
Mr.J.Haswell, W.Sussex
"Recently you delivered a 20' x 12' Field Shelter. I was very impressed with the build quality and very competitive price that I decided to order another one with yourselves."
Mr.Fitzgerald-Scales, Rochester, Kent
Please note:
(A) Our buildings are pressure treated, which means they are protected against fungal decay / rot etc and will last for many years. However dampness will still absorb through the walls. We recommend a build up of 3 coats of a good quality waterproofer, we stock stable coat in clear, green or brown, its hydrophobic and water repels from the surface. This needs to be applied to all exposed surfaces including corners before finishing trims are fixed, around the windows, also apply an exterior mastic sealant to all exposed joints. Timber is a natural product and is liable to warp, shrink, swell and knot holes may appear, we cannot guarantee against this. All buildings are supplied with roofing felt, we recommend using felt tacks & lap adhesive to fix felt down (these 2 items we do not supply).
(B) Self Assembly - All buildings are supplied for self assembly, side walls are already made up for you, (stable doors and fittings are supplied loose and will need fixing into position). Roof trusses, Roof joists/perlins are sent seperately along with roof sheets etc, these will need trimming and fixing into position.
(C) Skids - We offer two types of steel skids, both are galvanised, 80 x 40mm section being the lighter version and 100 x 100mm being the more robust. The 80 x 40mm skids are best suited for flat ground. It is the customers responsibility to make sure buildings are adequately braced including centre cross bracing before towing. Whilst towing move slowly and steadily, with out making sharp turns. We as a company accept no responsibility to structural damage to buildings or skids. Towing is strictly at the customers discretion.
(D) Delivery - Field Shelter and Stable walls are heavy, delivery is strictly where ever practically possible, and always at our drivers discretion, we cannot go into fields or soft areas during winter months. Abled bodied assistance will be required for off loading walls from within three metres of our delivery vehicle, if this is not possible please notify us where we can provide an additional helper but at an extra cost. Deliveries are normally within 1-3 weeks, however if you can collect from us we can usually have your building ready within days!
(E) Staking down Field Shelters/Stables - Field Shelters/Stables either static or mobile may need staking down and possibly other additions necessary during windy, gusty periods and especially in exposed locations. Roof perlins may also need extra fixings, and possibly metal brackets to help minimise issues. We as a company accept no responsilbilty for structural damage caused by strong winds.
Delivery service
All UK Mainland deliveries available.
Why not come and see our buildings on show and talk to us
about your requirements.
We are open 5 days a week
Mon - Fri 9:00am to 5:00pm
Saturday & Sunday - Closed
Delivery Service Available
Romsey, Southampton

Salisbury, Eastleigh

Winchester, Poole

Ringwood, Bournemouth

Andover, Portsmouth

Fareham, Chichester

Basingstoke, Guildford

Bracknell, Reading

Swindon, Bristol

Newbury, Oxford

Slough, Aldershot

High Wycombe

Petersfield
Midhurst, Gosport

Waterlooville, Hungerford

Yeovil, Malborough,

Bath, Trowbridge

Didcot, Chippenham

Wokingham, Abingdon

Wareham, Blandford

Wimborne, Weymouth

Dorchester, Shaftesbury

Woking, Crawley

Bognor Regis

Cirencester

Worthing, Brighton
Watford, St Albans

Croydon, Gloucester

Staines, Luton

Bedford, Milton Keynes

Banbury, Cheltenham,

Seven Oaks, Tonbridge

Maidstone, Rochester

Farnham, Farnborough

Reigate, Wallingford

Littlehampton

East Grinstead

Crowborough, Haywards Heath

Uxbridge, Beaconsfield
Harrow, Henley on Thames

Aylesbury, Crewkerne

Honiton, Taunton

Shepton, Mallet Dunstable

Stevenage, Leatherhead

Esher, Sutton

Alton, Berkhamstead

London, West Sussex

Surrey, Hamphire

Wiltshire, Dorset

Hertfordshire, Bedfordshire

Buckinghamshire, Oxfordshire

Berkshire Avon, Somerset, Kent
---
NEWS LETTER
Subcribe to our mailing list

Contacts us
Foster Fencing Ltd
Units 34 & 35 Wynford Industrial Park,
Yokesford Hill,
Romsey,
S051 0PW.